Branding 101 – Unveiling Customer's Identity
Before jumping in on the project we want to find out what's behind each human being, what makes them different then anyone else and what is the essence behind each project, each dream. To do that we start every project with a friendly, warm and free conversation, usually with our coffees on hands, no timers, no interruptions. This bonding time between our creative director and the costumer is key to project's success. It allow us to understand the layers behind each costumer's personality, their backgrounds, their reasons, their whys and their dreams.
"Traveling always brings something good, I want to inspire everyone to go on a trip be it a long one or a short one, a cheap or an expensive one"
– Lala Rebelo
Throughout our Unveiling Identity Session we noticed Lala was a very open person, with sophisticated taste but at the same time really grounded. She truly wanted to inspire people to live a different life, even if it was just for a few days. In terms of content, her posts were already very helpful to her users, with extensive tips and descriptions, and full of her own pictures. Producing her photographic content on-the-go was key to Lala's way of sharing, and a very good starting ponit for us in terms of Branding.
We created an Inspiration Board based on Lala's home, her lifestyle and her travels. We decided to incorporate the modern feel to her Brand. If her website was a home, it would be a modern home on the beach, with concrete walls and straight lines, high ceilings and geometric fabrics. Her home on the web would also show a lot of air, elegance and a touch of glamour.
<< Inspiration Board: a fresh, modern and Clean Beach Getaway
Branding Strategy and Guidelines
Because Lala's posts are so personal, her content is stamped by her vision, her taste and her quality control. She is sweet enough to take notes al the time during her trips so she can share valuable information with her audience, making sure everyone can follow her steps and go on that same trip later on.
VISUAL IDENTITY
We decided to make that aspect of her workflow the core of her logo.
Her quality control, a quality label, a seal of control, a stamp,
a boarding pass, a ticket to a safe and unique trip.
and ta-da! this is the animated version of her logo
Signature logos for website and email
Iconography and design support
Post Icons: Identifying main subjects inside each post
We noticed all of her posts had a similar structure, with an Overview of the place, tips on getting there, gastronomic scene and things to see. Because of that we decided to create icons to illustrate and organize the information inside each post. Each icon represent one of the main subjects related to Lala's travel post.
Visual composition: Image + Overlay + Typography + Icon
Visual templates for additional post information boards
WEBSITE FUNCIONALITIES
– Smart header menu: Search by destination, special series, subject or on the map
– Featured Image Banner:

Automatically coded design

(featured image + overlay + title + subtitle + tagline + icon)
– Four latest posts with featured images
– Interactive Map
– Automatic counters: Posts, Cities, Travels up to date
– Posts by Country/City
– Posts by Special Series (created by the author)
– Posts by

Location on the Map

(Interactive Map Integration)
– Trilingual Website (English, Spanish and Portuguese)
– Posts divided in subsections linked on header post
– Posts identified by icons on the homepage
– Holidays Calendar Display on the website
– Automatic Currency Conversion on sidebar
– Full Social Media Integration (Facebook, Twitter, Pinterest, Instagram)
– Search the blog
– Most popular posts to date
– Newsletter Sing up
– Advertisement placeholder
Interactive Map with posts location
THE FINAL RESULT
The best part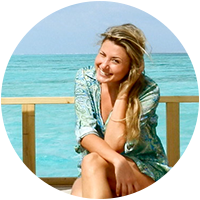 Lala Rebelo
Travel Blogger
Editor at LalaRebelo.com
The difference we made on Lala's work and life
"I used to travel and get all excited about talking to people about my business and promoting content online, but truly, when I had to handle my business card or show my website, I used to feel really ashamed, and that was slowing me down.
I'd like to reach out to Ana and Rafa to thank you for the difference you made. I am in love with my website, my brand and all! Since the beginning I felt that having chosen you to make this project come through was the right thing to do, I knew it would look amazing and be very functional, I couldn't be happier! My project is finally born and I feel boosted, ready to write and travel even more! You were fantastic, thank you very much 🙂 "